Cypoxy™ Insulators & Custom Components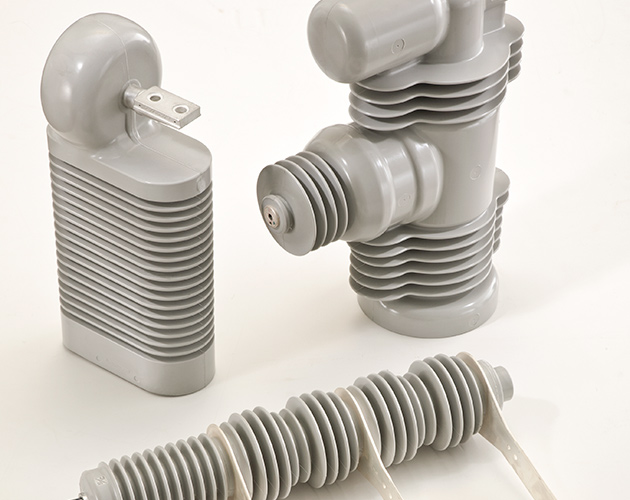 Cypoxy™ Insulators & Custom Components
For indoor and outdoor distribution, 4.8 kV through 34.5 kV
S&C's Cypoxy insulators incorporate a uniquely formulated cycloaliphatic epoxy resin system especially tailored to provide the electrical and mechanical strength characteristics detailed in industry standards for porcelain insulators
Back to Top
Cypoxy Insulators and Custom Components provide uncompromising performance in indoor and outdoor applications. Cypoxy is a cycloaliphatic epoxy resin material that won't track, even in the harshest environments. It's self-scouring and non-weathering. Cypoxy withstands high-power arcs without damage and resists ultraviolet radiation. Cypoxy's design flexibility enables special skirt configurations that maximize leakage distance.
Cypoxy has been proven by exhaustive testing and over 30 years of field experience to handle all climates. Its durability and economy have been demonstrated through over tens of millions of components in use in medium-voltage applications worldwide.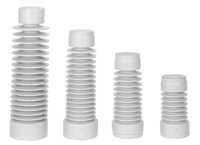 Cypoxy Station Post Insulators deliver real value in substation fuse, switch, and bus applications. They offer up to 25% greater dry-arcing distance than comparable porcelain insulators, resulting in fewer costly outages from animal intrusion. And they have equal or greater leakage distance than equivalent porcelain insulators. They're as much as 50% lighter too, making handling much easier.
Cypoxy Station Post Insulators are also more resistant to damaging power arcs and maintain full BIL after interruption of the arc. They're less susceptible to vandalism as well. Their solid-dielectric construction means that—unlike porcelain—there's no glaze to chip. They maintain full track resistance even when damaged. The result: lower substation maintenance costs.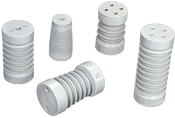 Cypoxy Indoor Insulators offer significant benefits in indoor applications, for bus support and special applications. Cycloaliphatic epoxy has greater track resistance than most other polymers. The stability of its material formulation ensures consistent value.
S&C offers a wide variety of bus support insulators, from 5 kV to 34.5 kV — all meeting or exceeding applicable electrical and mechanical standards. They're much lighter in weight than porcelain, so they're easier to handle . . . speeding assembly time and reducing labor costs. Their lighter weight also decreases the likelihood of handling damage.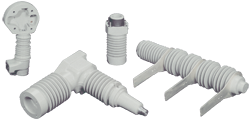 Cypoxy is ideal for housings, bushings, and other components. Its versatility permits unique, compact shapes to suit the application. Molded-in features and inserts can eliminate subsequent manufacturing and assembly steps.
Manufacturers of switchgear and other medium-voltage equipment can use this flexibility to reduce labor and material costs by building functionality into the molded parts. Custom designs are readily available for OEMs.